For the 5th consecutive season, the Grafico team was welcomed back to The Block, this time at the notorious "The Gatwick" hotel St.Kilda. Stay tuned for what is going to be one epic season!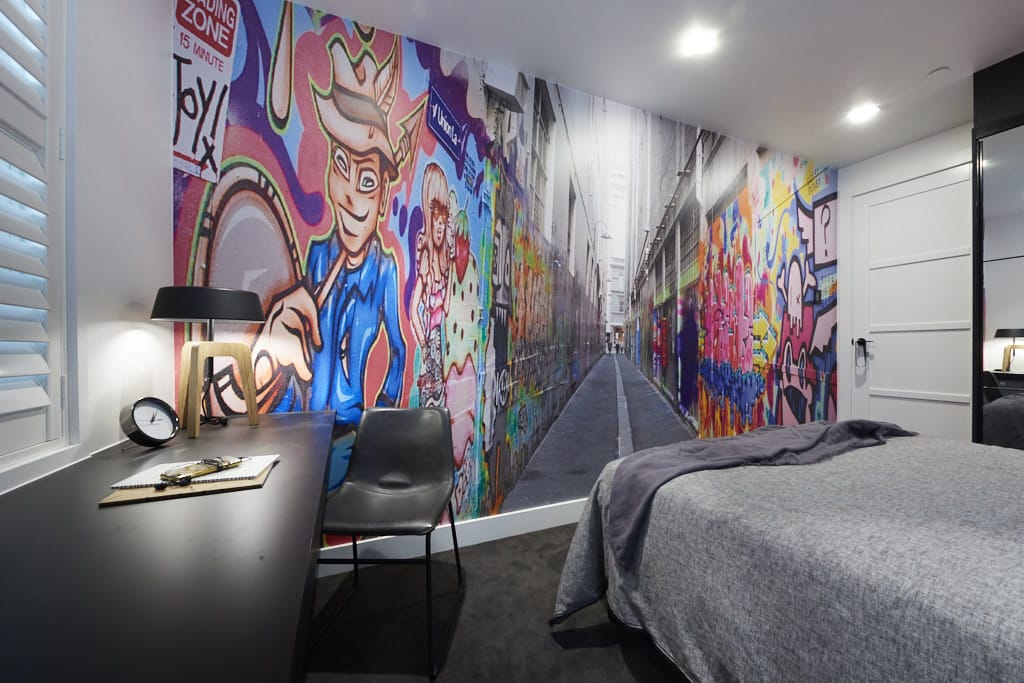 Kerrie & Spence: Challenge Apartment
Working with the dynamic duo of Kerrie & Spence who had a design brief of an edgy St. Kilda/Melbourne themed teenager's bedroom. Kerrie chose a popular image of a Melbourne laneway and decided to use our custom print wallpaper to make a statement feature. Packing lots of 'wow' factor and plenty of vibrant colour it was certainly a controversial statement piece that had everyone talking about it including the judges. Many said the image's perspective added a lot of space to the room plus others loved it's vibrancy and celebration of Melbourne's laneway culture!
We can custom print this image plus many more to suit your wall! Now available on our shop now in a wallpaper OR ready to hang portrait or landscape panel and canvas wall art with prices starting from as little as $125!
Vintage St Kilda Wallpaper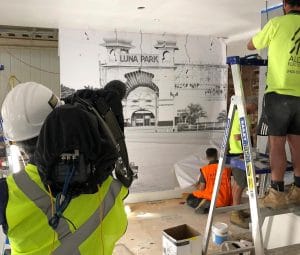 Working with team Sara & Hayden our design team sourced a stunning black and white image of StKilda's iconic "Luna Park" circa 1940. The black and white image brings us back in time and even has a stunning vintage motorbike and side car in the foreground. The image was printed on our canvas textured wallpaper for the ultimate textured wall art.
Working last minute as always on The Block saw our team on site bright and early one Saturday morning completing the job in record time to allow Sara & Hayden to deliver their lounge/dining room for Sunday's reveal!
This image is now available as a wallpaper or ready to hang canvas or printed panel. ..Shop the look now on our shop here.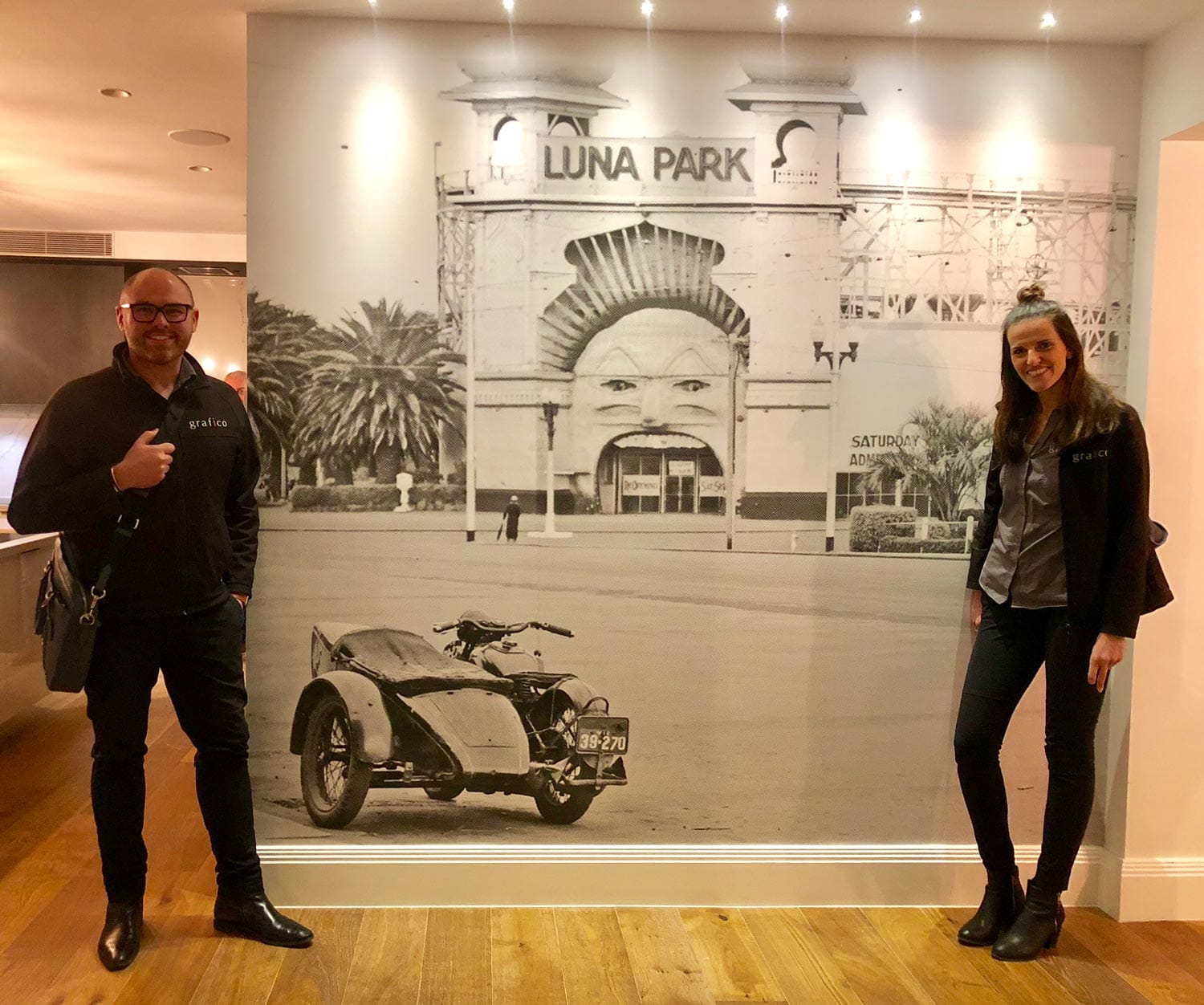 Caravan Challenge
When "The Block" team contact us to help them make a new weekly 'challenge' come to life – we of course jumped at the opportunity. Working with The Block team for many years now they have come to rely on Grafico's expertise in all areas including custom print wall coverings, signage and of course vehicle wraps! This time the challenge was not only on for the contestants, however, ALL the Grafico team!
The challenge consisted of all 5 contestants having to transform 5 very daggy and dilapidated caravans into funky retro masterpieces.
After

Whilst wrapping a vehicle or caravan isn't out of the ordinary for Grafico (as we have a large arm of the group that specialises in vehicle wraps and vehicle signage @Grafico_AutoDisegno The biggest challenge was that our team had to design, pre-press, print and then install all 5 caravans in less than 22hours!
To add to the challenge – the caravans were located in North Geelong (Over 1.5hrs away from our office).
The challenge started late one evening with our design team creating a pop-up design studio in front of a very cool 'airstream' caravan. Our design team then consulted each couple and designed a custom wrap to wrap the face of each caravan. Each team drew on different inspiration to create one-off designs that would both mirror their own tastes – however take into consideration the era in which the caravans were produced.
[envira-gallery id="4338″]
As soon as the designs were complete the high-resolution files were sent via high-speed internet (Fortunately this was connected at the venue) direct to our production team waiting eagerly at our North Melbourne studio. Our production crew then had the tedious task to work around the clock until after 2am to ensure all prints were completed in time for our install team to wrap the caravans the following morning! Our printers weren't the only machines working overtime that night – our office coffee machine was certainly given a work out over the course of the evening!
7am the next morning our install team (fortunately a different crew to those who worked until 2am) were on site at Geelong to begin the task of wrapping all 5 caravans. We chose a matte laminated finish to really make the graphics pop on the relatively plain surface. Making life extra stressful for our team…a full camera crew set up following their every move and listening in on microphones! Certainly NOT your regular day at the office! Our team worked throughout the day to wrap each caravan whilst the teams decorated inside the caravans.
Clients often ask us "Is The Block really as chaotic as it seems on TV and are the deadlines actually real"? We can definitively answer that with a big YES!
Over-all a super successful and crazy experience for all our team – one which we will never forget!
[envira-gallery id="4345″]
If you have a vehicle that needs wrapping in company branding or simply after a colour change be sure to contact our Grafico-Auto Disegno team on 1300 447 234 or graficoautodisegno.com.au
WEEK 1: 48hr Challenge
Contestants Hans & Courtney contact our team late one Friday with a request for an urgent wallpaper. How urgent? "Can you have it ready by Saturday morning?" Asked Courtney…
The Grafico team launched into action with a super fast design process designing a beautiful 'water-colour' look cloud image to adorn the ceiling of what would later become one very cool kids bedroom!
Initially just supplying the wallpaper, Hans & Courtney later decided that they needed our install team on site so once again we accommodated and in record time installed our self-adhesive wallpaper. Installing to a ceiling is always a tricky job working essentially upside down, especially with what seemed like 1000 other trades inside a small 3x3m room! Our install team kept cool under pressure and delivered a super cool 'clouds' wallpaper. If you would like to get the "Hans & Courtney" look, you can purchase the 'head in the clouds' wallpaper click HERE.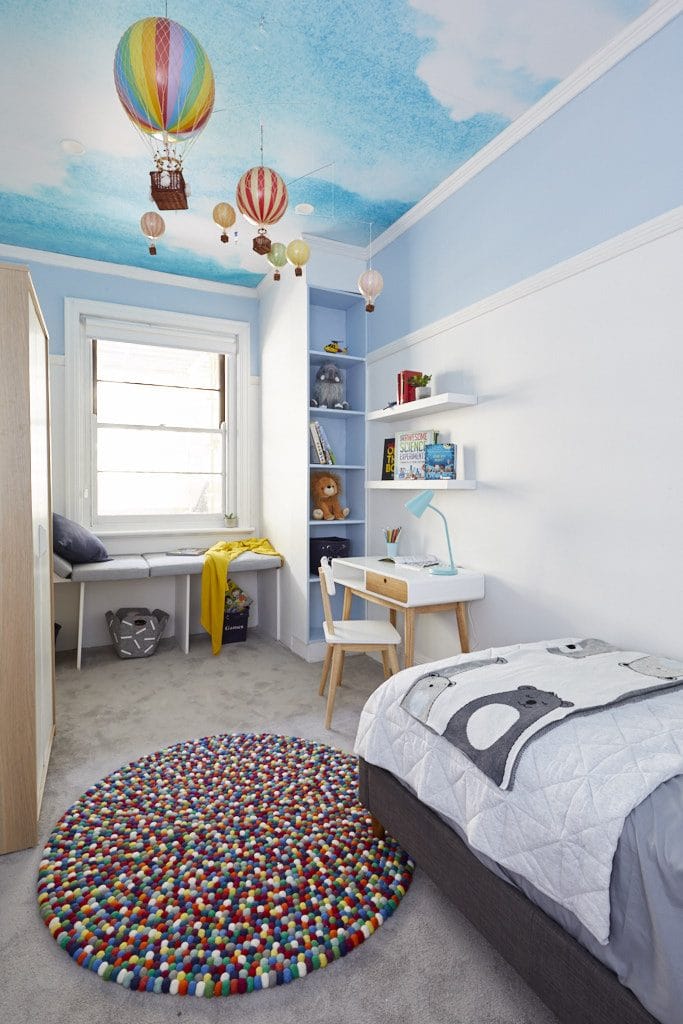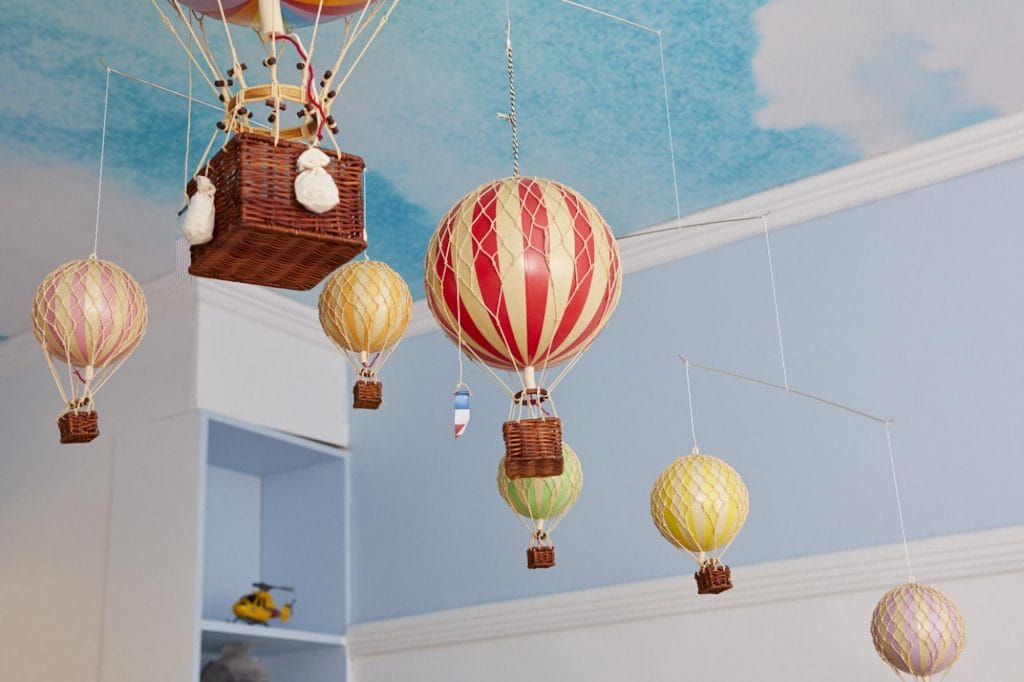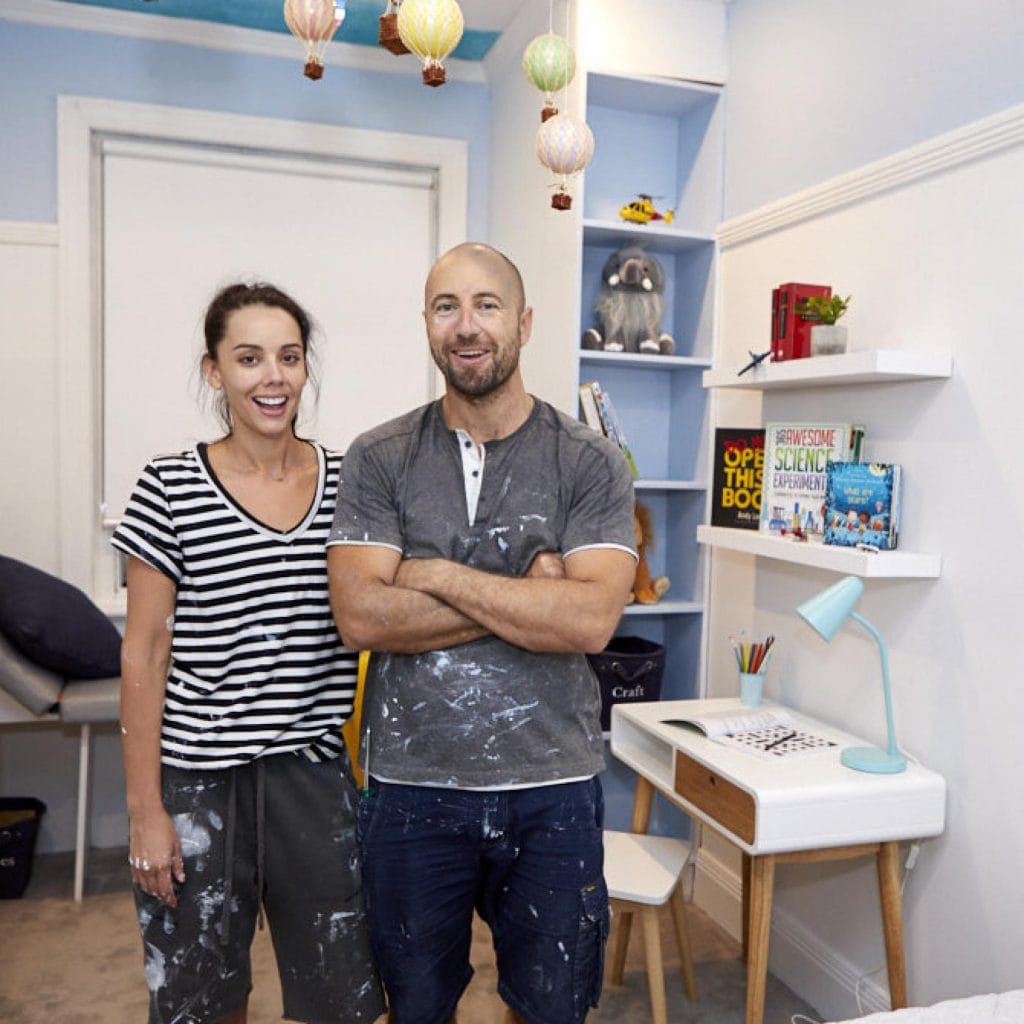 Stay tuned for more of the Grafico team on "The Block" Don't forget you can 'shop' all our "as seen on The Block" items both on our shop here plus on The Block Shop.