Grafico-Walls presents the latest in removable* self-adhesive wallpaper. No glue, no fuss, no worries!

#WhatwillyouGrafico ?
Can you make your own custom print 'Grafico' using your own supplied image or artwork? ABSOLUTELY!
Have the creative freedom to provide your own image or work closely with our in-house team of qualified graphic designers to create the perfect design for your commercial or residential space.
Custom design – provide your own image, or have our in house design team design something custom for you
Durable self-adhesive & removable* vinyl base wallpaper
High-quality printing with environmentally friendly HP latex inks
No major install preparation required
Available in a range of textures and finishes to suit all purposes
Large up to 1200mm wide 'drop' with 10mm overlaps/joins.
*Terms and conditions apply.
Full installation service Australia wide
DIY installation available
Grafico was founded by graphic designer, Damian Corney. It is this design experience and attention to detail that has translated to a strong design focus in everything we produce. Whether it be using supplied artwork or a total custom design, our team of talented, university qualified graphic designers work side by side with our clients to ensure a seamless design process. Having both design, print and installation teams in-house ensures both a quality finish plus an assurance that what has been designed will translate effortlessly through to print/production.
Our design team can assist with:
Graphic design and corporate identity/branding
Custom graphic design and illustration
Photo re-correction & enhancement
Design consultation
Project management and corporate roll out
Designing custom print wallpapers and especially custom print mosaic tiles (Mosaico Digitale) can be challenging for designers. Our team has over 15 years experience and up to date with the latest materials and finishes to ensure your walls are #MoreThanJustAWall
Contact our team to get your project started!
For over 6 years now our team has been working with Channel 9's "The Block" transforming rooms with 10 out of 10 results! In 2021 the new Hampton based series will see us on board once again as a sponsor.
Grafico Group founder & creative director Damian Corney leads our Grafico team as we work directly with each contestant to design and develop unique ideas to transform spaces and add amazing 'wow factor'. Stay tuned for the 2021 season – it's going to be a huge one!
Just like on The Block, If you would like specific help from our design team either in person, on site or via zoom, Please contact our helpful team to discuss your project.
Our custom print wallpaper is available in a number of finishes and textures. Below are some popular finishes depending on your artwork and wall location.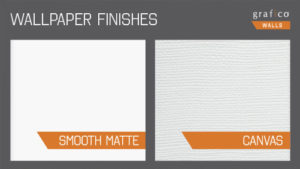 STUCCO finish is also available and back in stock in limited supply!
Please note samples above are a guide only – please contact us to request or view samples in person.