Excerpt of original interview in "The Block" magazine.
The design company's founder and CEO, Damian Corney talks custom printed wall art and how his time of The Block presented some scary moments!
Q. How did you become involved in The Block?
A. The team approached us at a trade show and in 2014 filmed a challenge at our office where the contestants designed custom-printed wallpaper and installed it the same day! We have often gone on to work with the contestants after the show, too, such as designing a kids wallpaper range with Alisa & Lysandra.
Q. What are some of the most popular themes
A. Our custom vintage maps are a hot favourite. You may have seen these in various seasons including in Andy & Deb's lift well. Nature is always a popular theme. Large floral patterns and murals have been consistently popular, as have our printed ivy mosaic tiles that were used in Jesse & Mel's courtyard.
Q. How are people using them in the home?
A. A wallpaper feature is still most popular, rather than wrapping all the walls. Having said that, we designed the wallpaper to wrap all walls in a few rooms (for example Andy & Deb's winning guest bedroom), however in that case the image/pattern was quite subtle. We then have the options of printing smaller wall art panels and canvases should clients to want to commit to a full wall.
Q. What's the design process?
A. Many clients will come to us for inspiration and sit down with our design team to discuss their ideas. They could be just rough concepts and our design team sources imagery or designs something from scratch. When we needed to create the custom-print wall of Ivy for Jesse & Mel, we couldn't find a suitable stock image so we arranged our photographer to go on site and with the magic of photoshop created a huge wall that was seamless! On "The Block" there's an added layer of challenge, as each contestant is VERY short on time, so they may contact us with a concept and that very same day i'll be out on site with them discussing ideas with my laptop open (usually after hours as it's the only time the blockheads get a chance to sit down!)
Q. Your most challenging task ever on The Block?
A. This year, in the same week we did Mitch & Mark's courtyard in our outdoor wallpaper plus Jesse & Mel's "Mosaico Digitale" custom print mosaic tile ivy wall. The other difficulty was that not only the enormous wall dimensions, but Mosaico Digitale is made in Italy, so we had to work with our factory in Puglia, Italy to work through the night to produce the tiles, and then with the help of super fast air-freight they arrived just in time!
Our team really worked hard this season with all sorts of challenges thrown at them, from late nights, early mornings and weekends, they really rose to the challenge. We simply couldn't have completed "the Block" without our amazing team!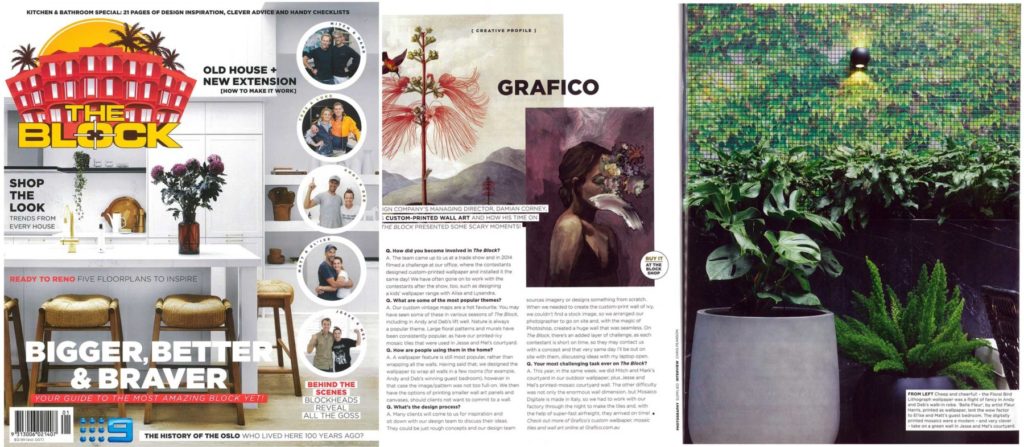 For a more indepth look at ALL the projects we completed on 2019's The Block season check out the specific blog here!