Grafico is proud to be the exclusive distributor of 'Mosaico Digitale' one of the world's most innovative and customizable wall coverings products.
Custom size, shape & design – your own artwork, or our in house design team can design for you
Suitable for use indoors, outdoors and in wet areas
10 year warranty
Flexibly installed onto curved and irregular areas
Lightweight and durable @ only 1.2kg per m2
Only 2mm thick!
Can be installed on top of existing tiles, avoiding messy demolition
Easy installation: provided on numbered & mapped approx 250 x 250mm sheets
100% biodegradable in their plant component
Made in Italy (Our factory remains open even through COVID-19)
Fast air-freight 4-6 weeks from artwork approval*
How is Mosaico Digitale made?
The tile is made of a 2 mm thick bio-resin layer. Digital printing is incorporated into the resin itself allowing the image to be totally custom. As the image is behind not 'on' the tile atmospheric agents such as UV rays, rain, contact wear, and high traffic do not affect the integrity of the product which is extremely durable as well as versatile. Maximum customization, maximum performance with a weight of only 1.2 kg per square meter.
Mosaico Digitale can be adapted to any surface (flat, curved, angular) and it can be used even where the traditional mosaic could not be installed. Being so thin you can even install the tiles over existing tiles. The material is non-toxic and suitable for food environments.
The installation process is also intelligently simple; each custom tile square (approx. 250x250mm sheet) is numbered individually during production, allowing the sheets to be laid out in numerical order to form the whole image in preparation for tiling. The flexible nature of the tile sheets allows them to be applied to irregular surfaces including curved objects as well as be trimmed to fit into unusual wall or floor spaces. Mosaico Digitale can be used to create everything from eye-catching spaces both indoors, outdoors and wet areas.
Proudly 'Made in Italy' with fast airfreight at only 4-6 weeks from artwork approval.*
Click on the "Downloads" tab above to see the installation video! 
*Conditions Apply
Downloads + Installation Instructions
Mosaico Digitale install video
Wall Week Ep 1 – Mosaico Digitale 
World-renowned International Award Winners
Since being invented in Puglia, Italy over 15 years ago, Mosaico Digitale has been specified by internationally renowned architects and designers and has won several awards including:
BEST OF THE YEAR AWARD 2016, 2015, 2014
NeoCon 2015 – Golden Award in the "Surfacing Materials" Karim Rashid & Mac Stopa Projects
REDDOT AWARD 2016
ARCHITIZER 2017 – Bio Resin Tile – 100% Biodegradable in its Plant Component
IDEX CANADA 2017 – Eco-sustainable product
ADEX PLATINUM AWARDS –  2015, 2018
AUST. SIGN & GRAPHICS ASSOC. AWARDS 2012, 2014, 2016
ITALIAN CHAMBER OF COMMERCE MELBOURNE Business Award Finalist 2018
AUSTRALIA'S BEST BATHROOM AWARD 2019 – Westpoint Blacktown Amenities (By i2C Architects)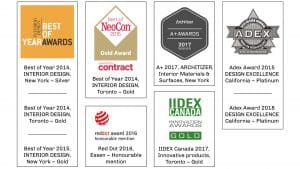 Grafico was founded by graphic designer, Damian Corney. It is this design experience and attention to detail that has translated to a strong design focus in everything we produce. Whether it be using supplied artwork or a total custom design, our team of talented, university qualified graphic designers work side by side with our clients to ensure a seamless design process. Having both design, print and installation teams in-house ensures both a quality finish plus an assurance that what has been designed will translate effortlessly through to print/production.
Our design team can assist with:
Graphic design and corporate identity/branding
Custom graphic design and illustration
Photo re-correction & enhancement
Design consultation
Project management and corporate roll out
Designing custom print wallpapers and especially custom print mosaic tiles (Mosaico Digitale) can be challenging for designers. Our team has over 15 years experience and up to date with the latest materials and finishes to ensure your walls are #MoreThanJustAWall
Contact our team to get your project started!