Week 13 – Garage & Terraces
It was garage & terrace week this week on The Block and once again our team were onsite transforming spaces with our custom print wall products.
Mitch & marks garage featured a classic Mercedes wallpaper mural to transform a plain garage in to anything but! We even borrowed a classic VW Kombi van as a prop to really complete the Palm spring inspired look. Shop the look here: LINK TO PRODUCT ON SHOP
We have completed 100s of garages and automotive showrooms over the years with everything from custom print wallpapers, Canvas frames and banners and even Mosaico Digitale custom print mosaic tiles. Check out some examples of past work here.
A garage is no longer just a dusty room at the back of your property it's a showroom for your prized possessions. If you have a garage or showroom that needs an injection of personality contact our team and we'll get your project started!
Well unfortunately that's the last room to be revealed on this season of The Block. We've loved being involved with the show this year and look forward to watching the auctions! Best of luck to all the contestants and may the best team win!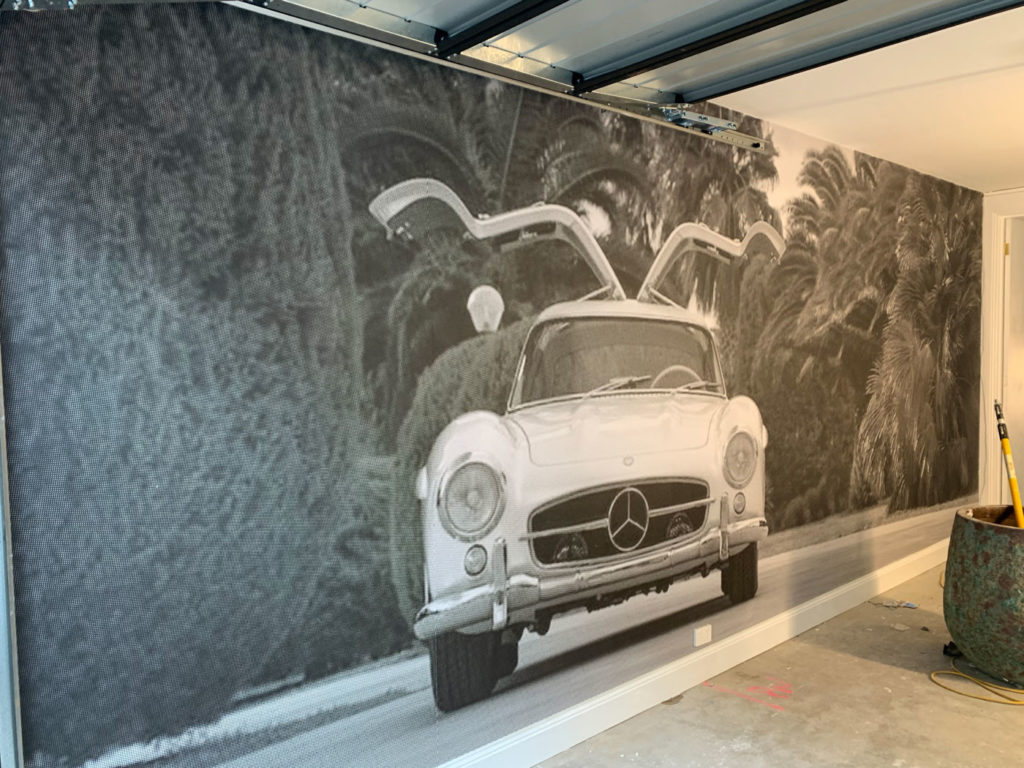 WEEK 10 – Studio Bedrooms
Once again working with the talented duo @EliseandMatt we designed a specially commissioned wallpaper which we have aptly titled 'Emerald Jungle'. Using beautiful lithograph style greenery overlaid with emerald and verdant green.
This stunning design looks extra special thanks to it being printed to our textured canvas self-adhesive wallpaper film.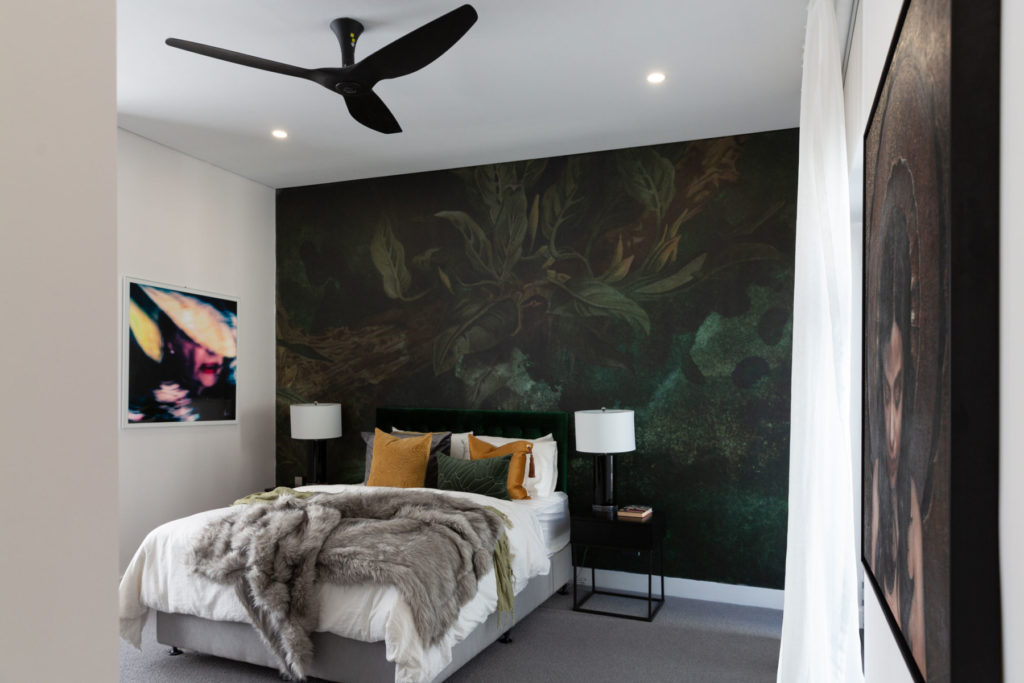 Week 9: Courtyards
Two amazing courtyard reveals this week on The Block featuring Grafico Walls products.

Firstly @JesseandMel took out the WIN this week with our stunning "Mosaico Digitale" custom print bio-resin mosaic tiles from Italy – Find out more about this amazingly innovative and customizable wall coverings product on our website!
Shop the look now on our online store.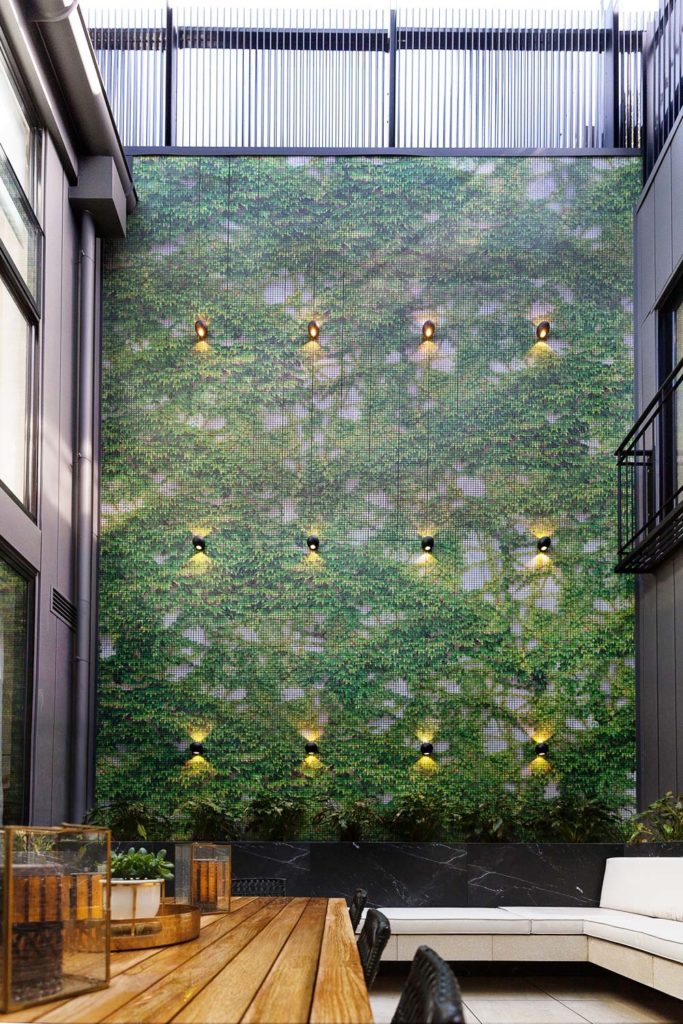 Then @MitchandMark wrapped their @colorbondsteel clad wall in our custom printed outdoor wallpaper for the ultimate "Palm Springs" inspired courtyard! ⁠
Shop the look now on our online store:
WALLPAPER | CANVAS 1 | CANVAS 2 | CANVAS 3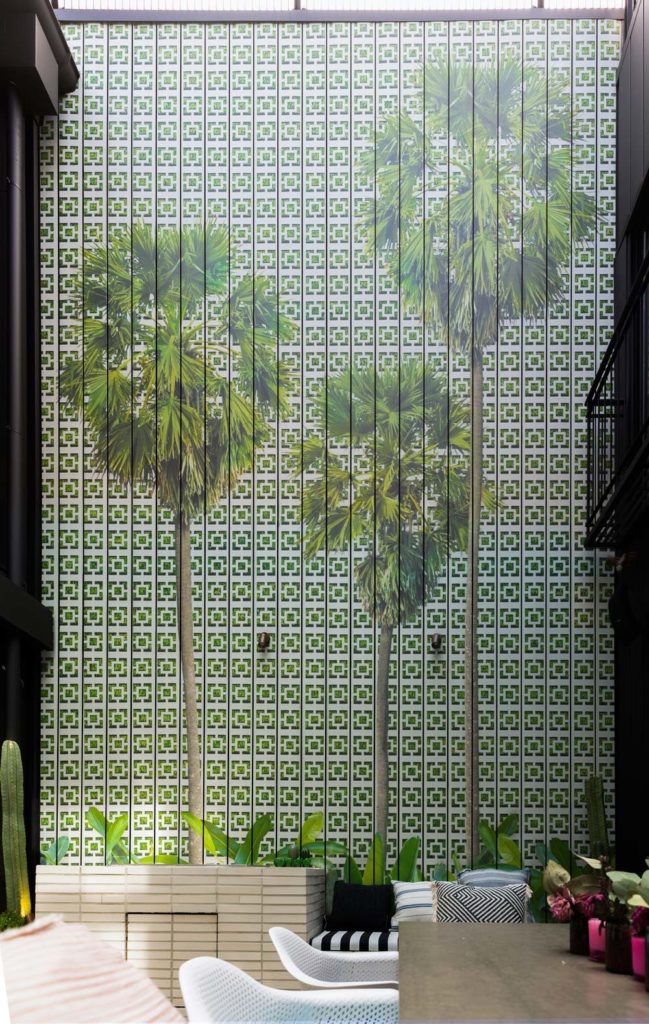 Week 6: Challenge
Working with all the teams this week on-site in Kensington for the weekly challenge. This time re-creating a million-dollar room using our "Textured Stucco Concrete" wallpaper but with a twist.
We even printed a fake fire to really transform the space!

Week 5: Guest Bedroom Week
Another two amazing guest bedrooms revealed for @AndyandDeb + @Eliseandmatt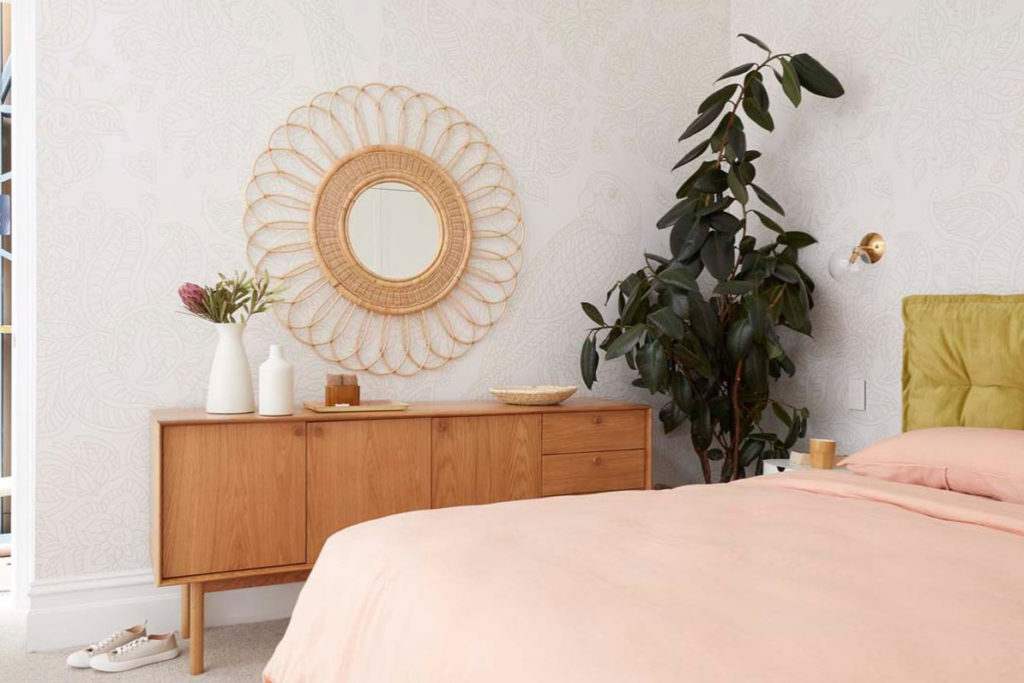 Andy & Deb
Working with All-stars Josh & Jenna, Andy and Deb's stunning guest bedroom features a custom designed self-adhesive wallpaper in a gold and warm white colour palette. Subtle in its colours with a beautiful canvas texture, beautifully complemented by Andy & Deb's styling choices. Congratulations to Andy & Deb for taking out this weeks WIN!
Shop the look now on our online store.
Elise & Matt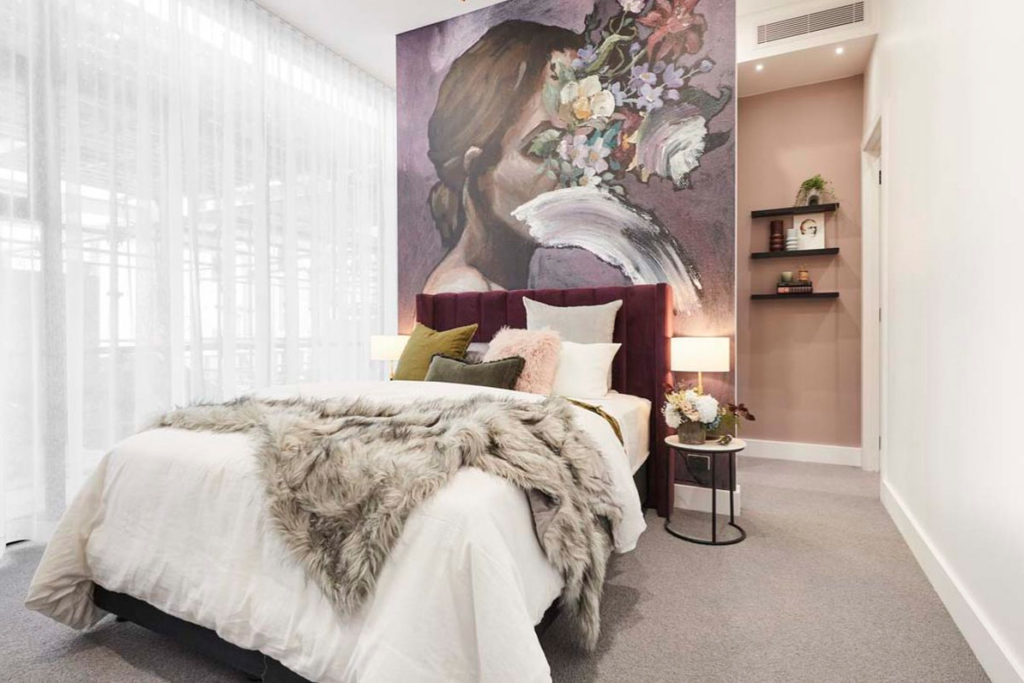 Working this week with All-stars "Ronnie & Georgia" this amazing one of a kind guest bedroom features our custom designed textured self-adhesive wallpaper! We worked once again with @FleurHarris scanning in her original oil painting and turning it into a custom printed mural that will surely be a talking point for any guest! This room certainly stirred up plenty of emotion from all The Block fans! It's wonderful how art in any medium (in this case wallpaper) evokes emotions in different people. What one sees as bad another sees as amazing! We of course LOVE this room and it's definitely a stand out in this property!
Shop Elise & Matt's look now + the entire "Fleur Harris x Grafico Walls" range.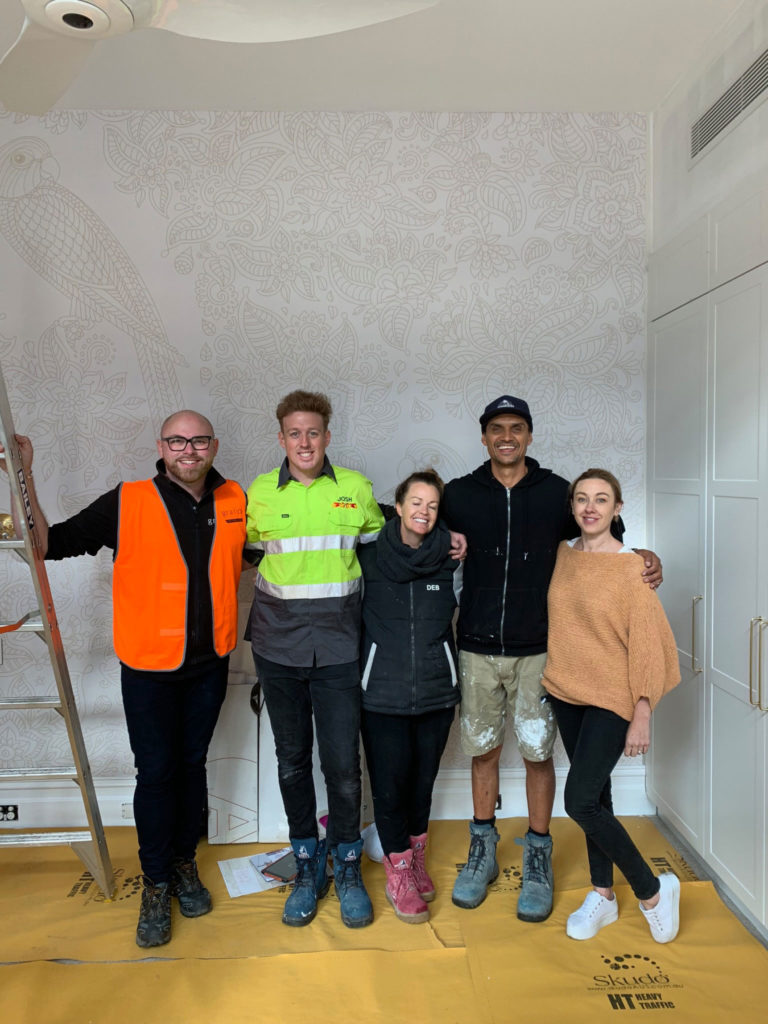 Week 3: Master Bedroom Week
Our first official week on the block with two amazing master bedrooms revealed for @AndyandDeb + @Eliseandmatt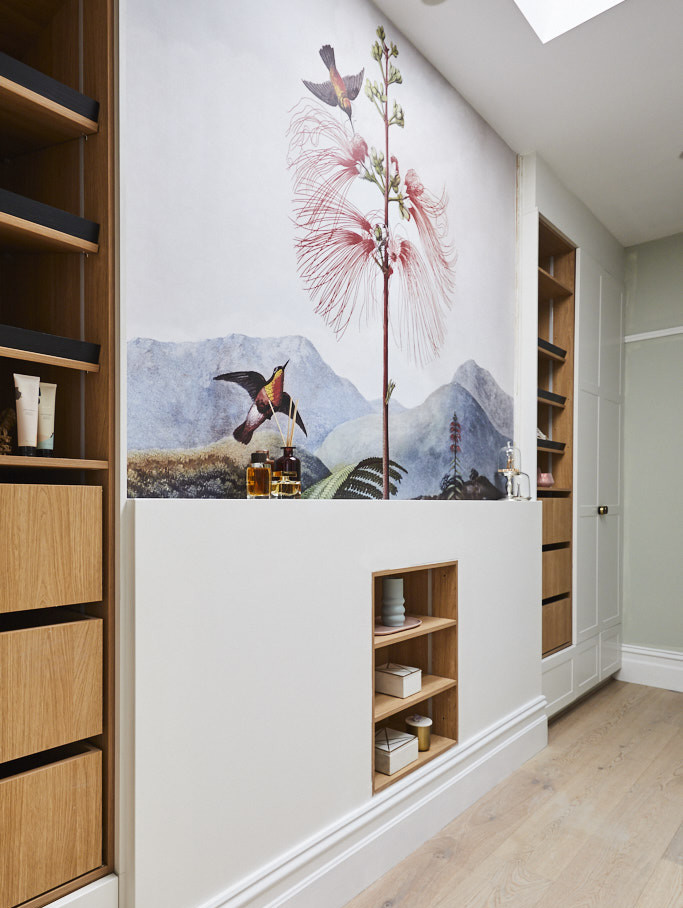 Andy & Deb
Andy and Deb wanted to make a feature out of a recessed plaster wall in their walk in robes. The Grafico team worked with the dynamic duo to create a beautiful lithograph style image of native flora and fauna to be a central focal point as you enter the space. Complemented by inbuilt joinery and Deb's styling the judges (Darren Palmer, Shaynna Blaze & Neale Whitaker) were suitably impressed.
Shop the look now on our online store:
WALLPAPER | CANVAS
Elise & Matt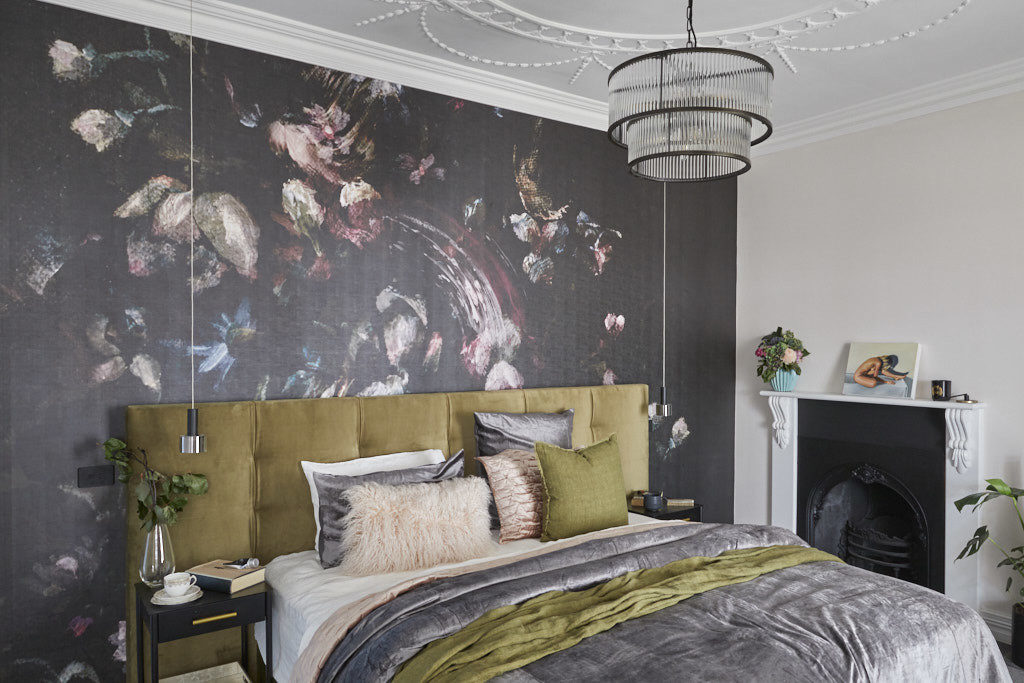 Elise came to Grafico with not much of an idea of what wallpaper to choose however had some amazing styling already in the pipeline so working with our team were able to tie the styling in to the wallpaper design.
Grafico worked with talented artist "Fleur Harris" using a beautiful oil painting called "Undertow". It was subsequently scanned and blown up to a full scale wallpaper behind the bedhead. Using our canvas textured wallpaper ensured the over-sized image also had beautiful texture which suitably matched the hand painted origins of the artwork.
Once again amazing feedback from the judges and they just missed out on the win for the week missing out to Mitch & Mark's shake up of the plans changing their master bedroom to another living/entertainment space.
Shop Elise & Matt's look now + the entire "Fleur Harris x Grafico Walls" range.