Description
Product Description
Keep your kids (…or adults) entertained for hours upon end with our huge colour-in whiteboard wallpaper prints. Printed to our removable wallpaper with a gloss whiteboard laminate turning it in to one huge colouring in whiteboard!
The print can be applied to most surfaces such as smooth plaster walls, glass, laminate or many other smooth painted surfaces. Refer to the FAQ dot points below for more info.
The film is just like a whiteboard so you can colour in all the areas with whiteboard markers and wipe it out if you colour out of the lines! Or you can wipe it all off and have a go again and again!
Our environmentally friendly Canon UV Gel printers use the latest zero-voc technology with water-based, zero VOC odourless inks, ensuring the safety of your family.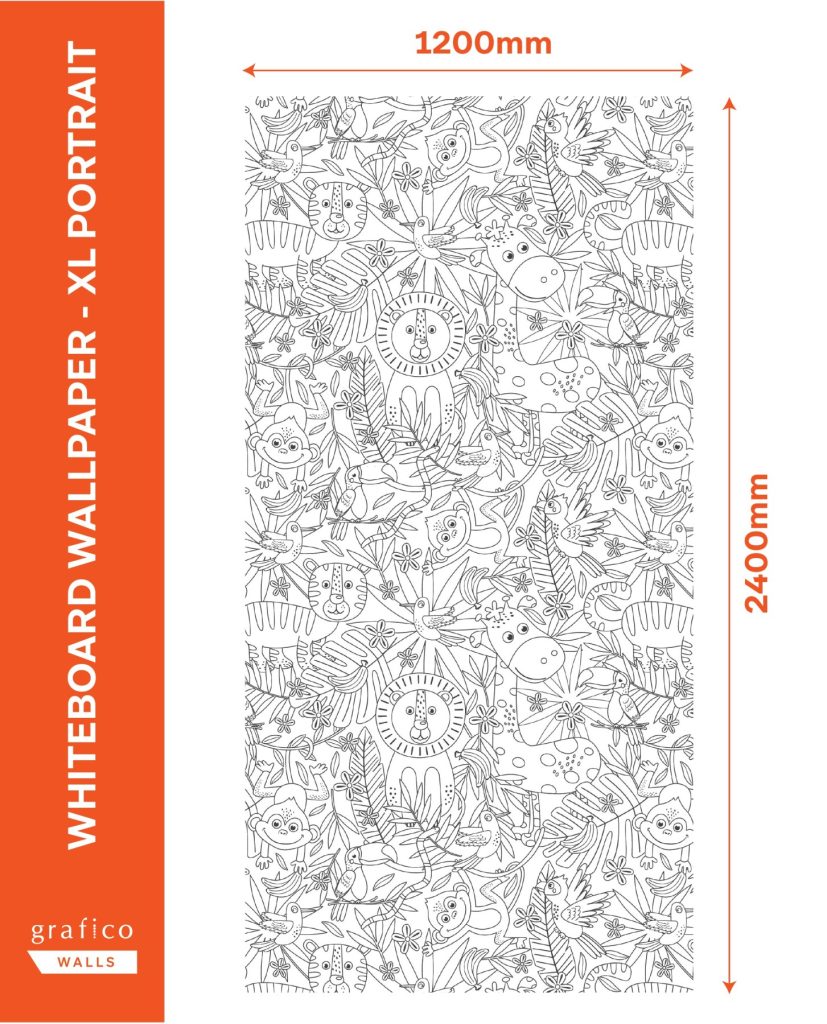 MATERIAL: Self-adhesive gloss whiteboard wallpaper film
DESIGN & PRINTED IN AUSTRALIA.
Kids
The short answer is…no…and that's a good thing!
We print onto a self-adhesive, removable vinyl base film which has a special reusable and removable adhesive. So it's similar to traditional wallpaper, however there's no messy glues/pastes and nightmare removal process! Being removable & reusable also means that when the print is being installed it can be peeled off and on again, so the install process a lot easier.
YES! We offer world-wide shipping! Simply enter in your address at checkout to obtain a shipping price. Please note that some locations may not be available due to Covid-19 restrictions on freight. If you obtain a message at checkout that you can't order to your country/location, please contact our team info@grafico.com.au and we can arrange a quote via another shipping partner.
Kids whiteboard wallpaper will stick to most painted surfaces like painted plaster, glass, laminex etc. 
However some paints contain teflon and other additives that won't allow the wallpaper to adhere to the paint. If the print peels off or won't stick we suggest trying an alternative wall or surface. Many customers enjoy applying the prints to a sliding glass door or a window or even a kitchen bench/cabinet that is flat/smooth as an alternative to a normal wall. 
The prints will not adhere to textured surfaces such as raw MDF, wood or concrete, render etc. for textured walls.
If you have an urgent request, it's best to contact our team on 1300 447 234 or info@grafico.com.au to see if we can potentially fast-track your order if you have a specific deadline. Please note, once the items leave Grafico we can not guarantee delivery turn around times from our courier partners.
If you have an urgent request, it's best to contact our team on 1300 447 234 or info@grafico.com.au to see if we can potentially fast-track your order if If you need a custom size or design please don't hesitate to contact our team on 1300 447 234 or info@grafico.com.au
Yes. The kids whiteboard wallpaper is able to be peeled off and re-applied to another surface. We suggest you keep the backing paper/sheet to store it on should you need to remove it and roll it up again. 
Grafico offers a 12month year guarantee against fading and adhesion issues caused by a fault in the product or printing method. 
Please note: Although in most cases the wallpaper film is removable, Grafico does not guarantee removability with zero damage to the wall from the following substrates:

– Surfaces with poor paint-to-substrate adhesion
– Wallboard
– Existing graphics that must remain intact; damage to existing graphic when film is removed
– Aged paint or metal that may have surface oxidation or chalking
– Outdoor, horizontal surfaces
Grafico does not warrant damage to the interior wall surface caused by removing film even if a removable adhesive was used. Removing a graphic can cause damage to the wall. Due to the variety of wall surfaces Grafico cannot guarantee damage free removal.
As our products are custom printed to order – we can not offer refunds or change of order due to change of mind.
For website terms and conditions please click here: https://www.grafico.com.au/terms-conditions/
For our privacy policy please click here: https://www.grafico.com.au/privacy-policy/
Yes. The kids whiteboard wallpaper is able to be peeled off and re-applied
All our wallpapers are printed using the latest in HP "Latex Ink" technology. 
HP Latex Inks are pigmented, water-based inks using HP's innovative aqueous-dispersed polymer ("Latex") technology. The water-based formulations of HP Latex Inks reduce the impact of printing on the environment. 
As the major component of HP Latex Inks, water offers important benefits to large format and industrial production environments: water produces no VOCs, requires no special handling, and is non-toxic, non-flammable, and non-combustible. 
Putting it simply using this latest technology means your wallpapers won't fade quickly and will still look amazing in years to come!
Essentially any 'whiteboard' markers as these can be erased off using a cloth or whiteboard marker eraser. 
Please note that if the markers are left on for an extended period eg. more than a few weeks, it can stain the face layer of the film. You can clean the print down with an alcohol cleaner to remove minor stains using a microfibre cloth. Permanent markers and other markers are not recommended to be used.
Unlike some other products on the market, Grafico use high quality films sourced from American and European manufacturers. The self-adhesive vinyl films are specifically designed for wall murals in both domestic & commercial locations. 
Available in: 
LARGE: 1000x1000mm (1x1m) 
SMALL: 630x630mm