Description
Product Description
Classic car lovers rejoice in our beautifully designed 'blueprint' style prints available in framed prints, stretched canvas or printed panels. Specially designed by our in-house design team using original blueprint drawings and illustrations. They offer a sophisticated way to celebrate your automotive passion in almost any space.
We have a huge range of classic vehicles on offer with new vehicles being added weekly. If you're after a specific vehicle that we do not have here please don't hesitate to contact our team for a custom print request.
A1 - 594mm X 841mm -  Poster Print
Printed to a matte finish synthetic paper using HP Latex low-voc UV rated inks.
 **Frame IS NOT included with purchase**
Looking for this design as a custom size, or Stretched Canvas? Please email info@grafico.com.au for a quote.
If you are looking for a specific vehicle let us know by emailing info@grafico.com.au  
Note: Mock up image not to scale - Blueprint images are provided as decorative artworks - scale/measurements may not be accurate.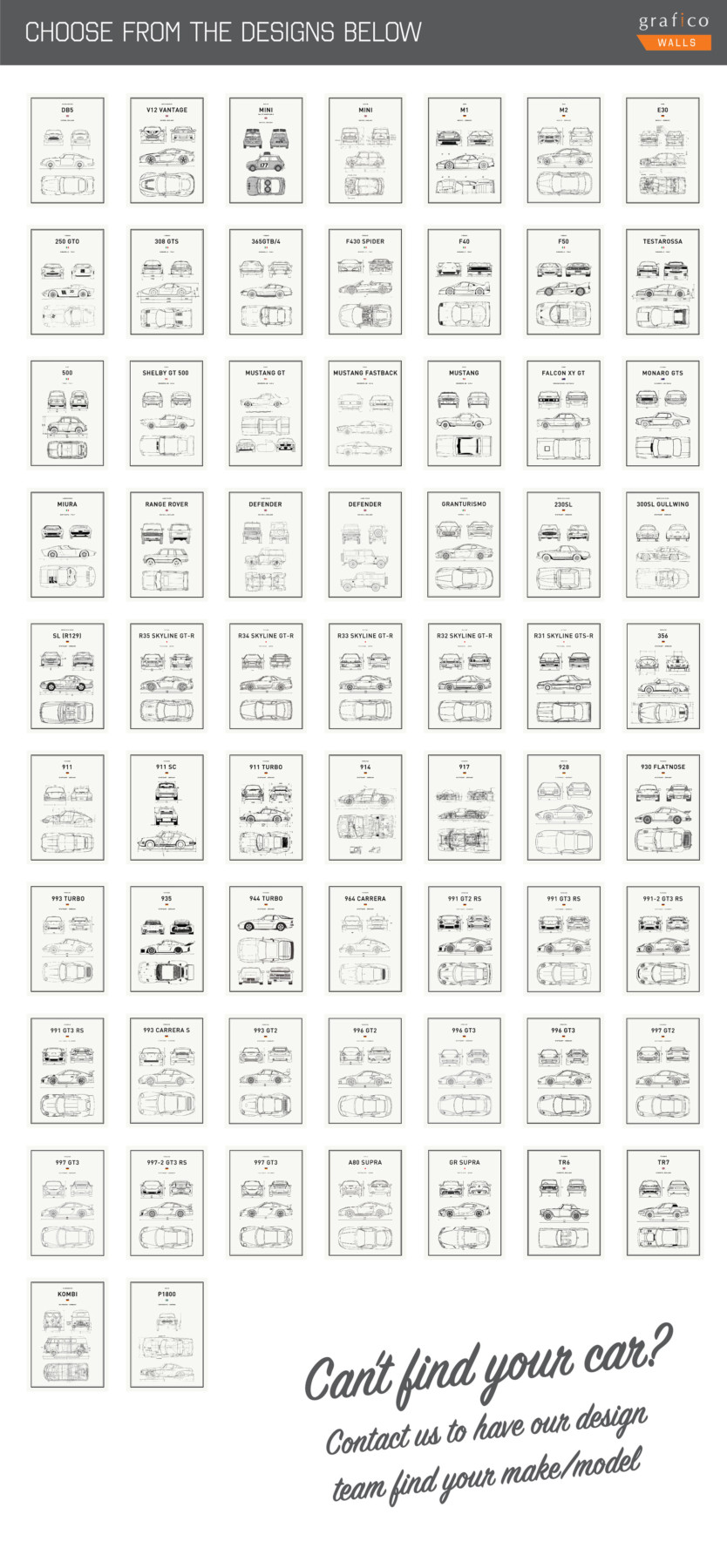 Prints & Canvas
We have our own in-house install in Melbourne metro, however for interstate we have a wide list of recommended installers in most capital cities. 
For Melbourne installs, please contact our team on 1300 447 234 or info@grafico.com.au . 
To obtain a quote we will need a photo of your wall/area as well as suburb/location and wall dimensions. 
If you're out of Melbourne and require installation assistance you can contact our team and we can send you a list of recommended local installers in your state. If you're in an area we don't have a recommended installer, we would generally recommend a local sign company to install the wallpaper as generally they are more proficient to install self-adhesive wallpapers over more traditional wallpaper installers which are more used to paste to the wall products. If you're unsure please don't hesitate to contact our team on 1300 447 234  or info@grafico.com.au
We don't have samples of our prints available, if you're located in Melbourne or Brisbane we do have prints on display to view if required.
Our prints/canvases are not designed for outdoor use. If you're after an outdoor solution please contact our team to discuss your project on 1300 447 234 or info@grafico.com.au
YES! We offer world-wide shipping! Simply enter in your address at checkout to obtain a shipping price. Please note that some locations may not be available due to Covid-19 restrictions on freight. If you obtain a message at checkout that you can't order to your country/location, please contact our team info@grafico.com.au and we can arrange a quote via another shipping partner.
I need my order faster than the estimated delivery time. 
If you have an urgent request, it's best to contact our team on 1300 447 234 or info@grafico.com.au to see if we can potentially fast-track your order if you have a specific deadline. Please note, once the items leave Grafico we can not guarantee delivery turn around times from our courier partners.
Printed in Australia to a heavy-weight matte finish paper using the latest Canon zero-voc water-based UV rated inks.
Our prints are all printed to a matte finish heavy-weight 'synthetic' paper which means it's colour-fast, long lasting and sits nice and flat in a frame!
Our stretched canvases are printed to a high quality canvas and then stretched to an artist quality timber frame with reinforced edges/corners to ensure they stay square.