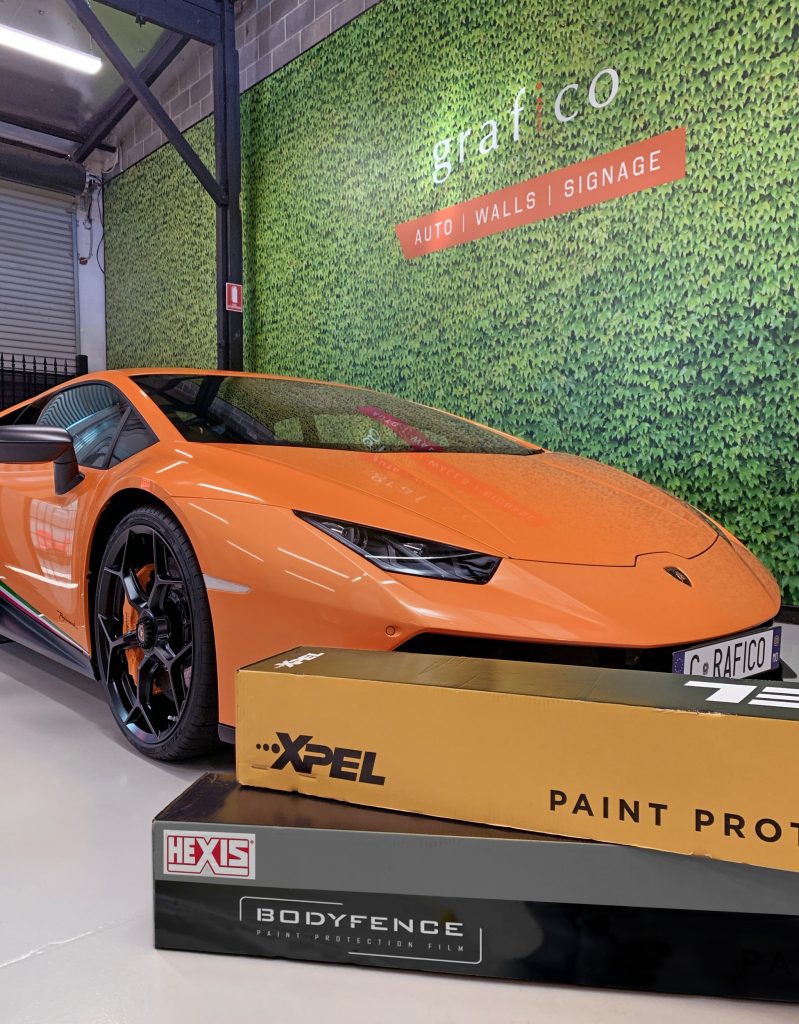 Protect your vehicle from stone chips, scratches and swirl marks with our high quality paint protection film. The premium clear film can be applied to exposed surfaces which are most liable to damage including the front bumper, bonnet, guards and mirrors. Custom areas are also available including FULL car coverage if required.
Features:
Premium clear protection film
Computer cut template system
Self-Healing Technology (swirl marks simply heat out)
Super glossy OR matte finish also available
Qualified team of installers. 'XPEL' Certified + 'HEXIS Bodyfence' Accredited
Up to 10yr. warranty against yellowing, cracking etc.
Fully removable protecting the paint underneath*
*Terms and conditions apply.
What tIs Paint Protection Film ?
Paint Protection Film or Invisible Stone Guard is the latest development of a technology designed to protect the paint on your vehicle from stone chips along with damage to the headlight lenses.
Will It Cause The Paint To Fade Faster?
No. Paint Protection Film is transparent to UV so the paint under the film ages at the same rate as the unprotected paint.
Will The Film Turn Yellow?
No. While the film allows UV through to the paint the film itself is UV stable and will not yellow.
Can I See The Invisible Stone Guard When It Is Applied?
Yes, but you really have to look for it! There is a fine line where the film ends, which is visible when you are looking for it however the new technology films are very hard to notice and are super-glossy and resilient. With our adjustable template system we will also roll over edges where ever possible.
Is There Any Way To Have No Fine Line When The Film Ends?
Yes & No. As paint protection film is thicker and less conformable than regular coloured vinyl wrap film, the film can not roll over ALL edges. The computer cut patterns are designed to give maximum protection for minimum cost. Not all panels can be wrapped this way as the make up of the film whilst being 'conformable' is not as conformable as other normal coloured films as they are thicker and specifically designed for paint protection film rather than colour change.
Why Not Use Bulk Film To Cover The Vehicle Instead Of Pre-cut Patterns?
Applying bulk film to a panel entails cutting the film on the vehicle. This is fraught with danger as it is very easy to slip and cut into the paint you are trying to protect. Using computer cut templates/patterns limits cutting on the vehicle and all edges computer cut to fit your car best. Why do some companies use the 'bulk method'? As Grafico is accredited by two of the most prominent PPF manufacturers (Xpel & Hexis) means we pay for access to the world-wide template system. Other inferior suppliers are not manufacturer trained and accredited and therefore do not have access to the template system and have no other choice than to opt to use the 'bulk' method which as described above is fraught with danger to your vehicle.
What Happens If You Don't Have A Pattern For My Car?
We can create a custom pattern for an individual vehicle.
Can The Paint Protection Film Be Removed?
Yes the film can be removed. It has an aggressive adhesive to hold it in place for the life of the vehicle but if it needs to be removed, for any reason, it will not damage factory original paint.* Vehicles with non-factory paint are not warranted against damage during film removal, as we have no control over the preparation involved in the repaint. Usually the reason for removal is accident damage and the panel has to be repainted. A new piece of paint protection film can be applied after the paint has cured. We recommend 3-4weeks curing time for freshly painted paint to cure before applying paint protection film.
How Do I Maintain My Paint Protection Film?
Paint Protection Film is a durable film that will resist staining and maintain a high gloss level for many years. To keep the film looking its best, wash your car often and follow the below suggestions.
NOTE: Grafico use various types of high-quality films. Please be sure to us the appropriate care instructions for the type of film installed to your vehicle Please be sure to use the care instructions for the type of film you purchased. If you are not sure which film you have, check with one of our team members for verification. Using the incorrect care procedures can permanently damage the film.
To keep the paint protection film looking great, follow a few simple guidelines:
• Wait 48 hours after installation to wash your car.
• Remove insect or other stains as soon as possible with bug and tar remover.
• Stubborn stains can be removed with 99% isopropyl alcohol. Take care to keep these
chemicals off the vehicle's paint.
• Light scratches in the film will self-heal in 20-30 minutes at room temperature.
In colder conditions, or to accelerate the process, pour warm water (120°F)
over the affected area.
• Avoid using a pressure washer or high-pressure water source near the edges of
the film, it can cause the film to lift and/or become damaged
• Detailing Clay can be used to remove contaminants that are on the film.
• Ceramic Coatings and Sealants can be applied over paint protection film.
Check with Grafico before applying the coating to ensure that there
are no issues that can arise. NOTE: This only applies to Gloss paint protection film
• Caution: Solvents and corrosive detergents must not be used.
Grafico are not liable for any adhesive films cleaned with the unspecified additives from
cleaning stations.
• Automatic Car washes: The additive products and the condition of the rotating brushes
may impair the adhesive strength of the films. It is commonly admitted that after 10
car washes, the polyurethane paint becomes streaked; therefore, and in the same way,
Grafico are not accountable for these mechanical effects that may affect the
film appearance.
Warranty Information
Grafico Auto offers two types of Paint Protection Film.
Below are warranty details for both types.
XPEL
The manufacturer "XPEL USA" warrants Paint Protection Film to be free from defects
in materials and workmanship for ten (10) years from the date of purchase. Covered
defects include: yellowing, staining, cracking, blistering and delaminating. This warranty
does not extend coverage to damage caused by normal wear and tear, road debris
impact, accidents, collisions or intentional damage of any kind.
To review warranty coverage for XPEL go to
http://www.xpelme.com/en/xpel-protection-film-warranty.php
HEXIS Bodyfence
HEXIS S.A. warrant their BODYFENCE film for a duration of 5 years to trained installers.
This warranty covers the following defects: yellowing and cracking of the product. If
it turns out that the product is defective, HEXIS commit themselves to replace the
respective product free of charge.
To review warranty coverage for HEXIS Bodyfence go to
https://www.bodyfence.net/wp-content/uploads/2018/09/BODYFENCE-Garantie-EN.pdf
Disclaimer
• Vehicles are intensely cleaned using Auto Wash / Auto Surface Cleaner & inspected for any paint imperfections & stone chips which are then noted for our reference.
• If there are any major imperfections in paint the customer is notified on how they wish to proceed with the installation.
• There is a chance that Precut templates may be slightly misaligned as film is stretched onto each panel. Therefore trimming on vehicle may occur if film is slightly oversized which can happen with stretch (however very minimal trimming is required).
• Upon picking up the vehicle, the product may not look to be perfect and the ultimate end result will be visible after a few weeks after settling down. Some bubbles and application marks can be visible upon first installation. Rest assured that these issues do settle down post install.
• We recommend returning the vehicle to Grafico for an inspection after 2-3 weeks depending on client convenience & Grafico schedule to review the installation and attend to any issues immediately.
• Minor imperfections in the film cannot be avoided due to installation environment. Although we take pride in a clean workshop, there is always a chance of minor dust & dirt specks that may appear under the film.
• If there are minor imperfections on the edges of the film, they can easily be rectified when the vehicle returns for inspection.
Before we apply paint protection to your vehicle
Prior to bringing your vehicle to Grafico, please ensure the vehicle is reasonably clean and that any existing film, polishes or coatings have been removed.
If the vehicle is delivered excessively dirty, there may be a surcharge to clean the vehicle & remove any existing film, polishes or coatings so it is ready to be wrapped.
WARNING: CERAMIC COATINGS: Paint protection film cannot be installed on top of ceramic coating. If you're unsure if your vehicle has Ceramic Coating, please contact your vehicle dealer or bring the vehicle to our North Melbourne vehicle wrap warehouse where our install specialist can assess the vehicle.
Ceramic Coatings and Sealants can be applied over paint protection film. Please check with a Grafico-Auto team member before applying the coating to ensure that there are no issues that can arise. Grafico can also recommend a recommended detailer for this process if required. NOTE: This only applies to Gloss Xpel.
WARNING: PRE-STONE CHIPPED PAINT OR NON-FACTORY PAINT:
In very rare cases, If your vehicle has pre-existing stone chips, paint damage or non-factory paint, there is a chance that there could be damage to the paint/clear coat upon removal of the wrap film. This is due to the paint surface being weakened due to the damage.
Grafico do not under any circumstances offer warranty and/or compensation should there be any damage to the paint surface or vehicle upon wrap removal or installation of the film.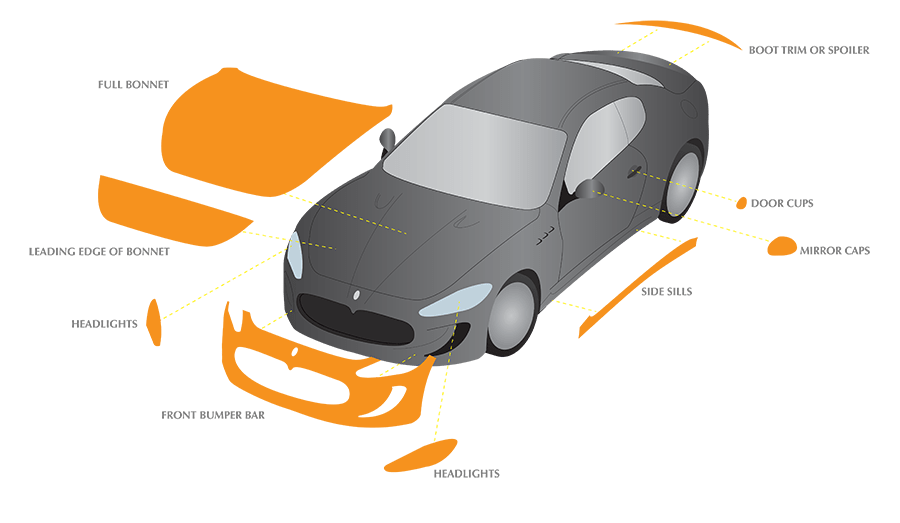 The below indicated prices are based on a standard complexity vehicle. As every car is different, an extensive range of vehicle templates are available for almost any model & make of car and can be quoted on request. Head to XPEL.com to see what templates are available for your car + additional information about the benefits of XPEL Paint Protection Film.
Front End Package:
Includes full bumper. full bonnet coverage, full side guards & mirrors/headlights.
Price from $1750 + GST
Full Bonnet Wrap
Coverage of entire bonnet area.
Price from $640 + GST
Front Bumper
Front bumper only.
Price from $710 + GST
*Disclaimer: If you are not sure if your vehicle fits into any of these categories or have a part that is not listed, please contact us for a tailored quote.